Mandvulo and the deferred Singaporean dream
Poor Mandvulo Dlamini tatane. What a naïve little Chihuahua of the king. This, ladies and gentleman, is the man who is wont to telling the nation that 'it has pleased his majesty' when making even the most mundane of announcements yet now thinks we must believe that he is to blame for the senseless ban on alcohol.
Our Prime Minister recently told a breakfast meeting he had with editors that if the nation is to blame anyone for the extended alcohol ban then it must be him. He thinks the nation does not know that he is a mere errand boy for the king and, by necessary extension, the royal family.
Swazis know that under Tinkhundla system of misgovernance the real person in charge is His Majesty King Mswati III not him. Cabinet is, to borrow from Karl Marx, merely 'a committee for managing the common affairs of the bourgeoisie (read the King)'.
It was the king who took Mandvulo from the corporate sector as a wet behind the ears political novice and threw him to the deep end of Swazi politics with one mandate: bring investors.
This is a mandate wrapped with double-edged motives: for the country and to satisfy the leeching appetite of the royal family. He was the man the king thought would change our fortunes.
And our little naïve Prime Minister probably looked himself in the mirror and saw Lee Kuan Yew. Indeed it is true, Mandvulo sees himself as the man to make Swaziland the Singapore of Africa just like his hero Lee Kuan Yew. How cute!!
In case you just landed from space, Lee Kuan Yew was Singapore's first prime minister between 1959 to 1990. He was a law student from Cambridge University who graduated with a double starred first, the highest grade at the University.
He is the 'Patron Saint' of all authoritarian capitalists the world over, Rwandan President Paul Kagame included.
His iron fisted rule is usually 'justified' by the economic success he achieved for his country. For example, he is credited with taking Singapore from a third to a first world country in just under 25 years.
Lee Kuan Yew's policy was an emphasis on making Singapore attractive for investment. In the ensuing years, he built state of the art infrastructure with excellent air and sea linkages; low and transparent tax regime; clean and efficient bureaucracy; a strong regulatory and legal framework; a neutral diplomatic policy (which has ensured Singapore is an ally of both US and China) and developed clean and green cities.
The result was a stupendous economic success for Singapore. Kuan Yew's picture probably hangs on Mandvulo's bedroom walls because, like the cute royal family's little poodle that he is, he genuinely thinks he can do the same in this country. Shem!
The story of Mandvulo and his obsession with Singapore is not new though. It goes back to the day he met the king at Lozitha palace on October 30, 2018. It was in this this meeting that he rolled out his vision for this country and how he was to deliver on his mandate of bringing investors.
"The country could turn around like Singapore," he told an attentive listening king. "Singapore did not even have water but now they are one of the world's top five countries in terms of economic development," he waxed lyrically full of optimism and hope.
Mandvulo was to be the man who would ignore the country's politics and go straight into fixing the economy. He saw himself succeeding where many had failed. He wanted to distinguish himself from the late Barnabas Dlamini by sanitizing the country's image internationally so that investors can come streaming through.
That was the grand vision. Even his former 'friends' and schoolmates from Salesian High School wanted to support him. In fact, they created a think tank of sorts made up of the country's finest brains with the ultimate idea of being his advisors.
Among members of the think tank was KwaMagogo author and Executive Chairman of DNA Economics, Elias Masilela, lawyer and human resource specialist, Sidwell Lukhele, REDI Chief Executive Officer Sikhomba Gumbi, Sandile Simelane from among others.
This committee was chaired by Lukhele and held several meetings to try and help the PM 'lead better'. Mandvulo was consulted to help with terms of reference and scope of work for the committee.
After a bit of back and forth, the committee had to be put on abeyance after raising political issues that our Prime Minister was uncomfortable with.
This group was forthright about the political booby-traps inherent in the Tinkhundla political system and that nothing could be achieved unless he faced the big elephant in the room—democracy in the kingdom.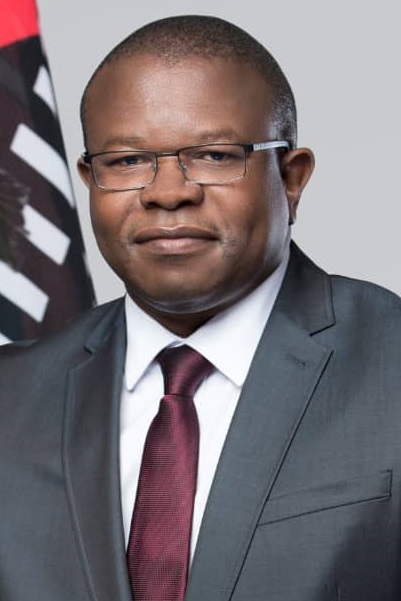 However, our PM told them to stuff their think tank he will resuscitate the economy Kuan Yew style. Ulibambe Lingashoni is privy to communications between the committee where they discuss in length about the posture the PM has taken and then agree to allow him to privilege 'attracting Foreign Direct Investment (FDI)' within the prism of Tinkhundla system of governance.
Mandvulo then turned to Lomthandazo Mavimbela as his advisor.
Mavimbela was former Senior Officer (Monitoring & Evaluation) in the Southern African Development Community's and was briefly based in the SADC offices in Botswana.
Having staffed his cabinet with fellow MBA holders like Minister of Commerce, Industry and Trade Manqoba Khumalo and the 'white messiah' in businessman Neil Rijkenberg, Mandvulo saw himself as part of a troika of 'clever blacks' that would show that Tinkhundla system can be workable.
It is worth noting that Khumalo was previously Managing Director of Coca-Cola in the country and former board member of Tibiyo TakaNgwane. Meanwhile, Rijkenberg is a shareholder of the Montingy group.
The logic of the three was that Kuan Yew was never a democrat but he made miracles for his people. The three musketeers believed they had business confidence to trigger FDI to the country and deliver on the king's wishes.
Their strategy was three-pronged; build up the international profile of the country through a public relations offensive, bring the local white business class closer to the regime and then watch the economy grow.
The white business community, historically on the fringes of our politics, finally felt they had their man in Neil. Even better, he was strategically positioned as Minister of Finance. Business more generally felt buoyed with Mandvulo's cabinet.
It was all meant to be smooth sailing going forward for the clever blacks and their white messiah.
So what was the Swaziland Mandvulo wanted to change?
So if Mandvulo wanted to make Swaziland the Singapore of Africa what exactly was he confronted with? Or, to use a township lingo, what was the country's 'rap sheet'?
Well, the starting point is that Swaziland is facing an alarming food crisis. The latest report from IPC Acute Food Insecurity analysis shows that between June and September this year we recorded over 330,000 people facing acute food insecurity.
That is almost 30 percent of our 1.1 Million population. In the same period last year, we had 205 000 in a similar predicament.
Even worse, IPC projects that by march next year the number is expected to increase to 366 000 due to lower food production, the impact of COVID-19 on livelihoods, and unusually high commodity prices.
As if that is not enough, the youth unemployment is sitting at 47.37 percent and has been growing steadily for the last few years.
Perhaps, the most insidious thing under successive Tinkhundla administration is a finding by the African Development Bank that less than 10 percent of high school leavers make it to tertiary education.
By logical extension, this means our schooling system continues to offload young people into the wilderness of un-employability with no skills to make them employable even when chances open up.
A whole 90 percent year in and year out! For a country where 77 percent of the population is below the age of 35 years this is a disaster waiting to happen.
Meanwhile, real GDP growth has been falling consistently over the decades and now sits at 2.4 percent for the period between 2010 to 2019.
For the last six years, our growth rate has averaged less than two percent owing to macroeconomic imbalances caused by volatile Southern Africa Customs Union (SACU) receipts, prolonged droughts, and weak business and investment climate.
Capital formation has been small too and Mandvulo's much hyped private investment has been declining consistently for the last few years. Even agriculture, the mainstay of our economy, has had its contribution to GDP dropping from 12.3 percent in 2000 to 8.8 percent in 2019.
The International Monetary Fund (IMF) is also not optimistic about the state of the Swazi economy. In their latest report, IMF Executive Directors noted that Swaziland was paralysed by slow growth, rising public debt, and depleting international reserves.
They forecasted that falling private investment and declining competitiveness stood on the way of growth prospects. Public debt, which financed white elephants like Mavuso trade centre, Sikhuphe International airport and now the ICC at Zulwini, is about to reach 60 percent of our GDP and contributing to our "reduced international reserves".
With a weakening economic environment, credit to the private sector has also decelerated while our banks' asset quality has deteriorated. By all account, this does not look good for a man obsessed with attracting FDI and making us Singapore.
This grim economic outlook was confirmed by our Minister of finance who admitted in his budget speech last year that the country was now feeding on its reserves and that our economy was in ICU.
"The economy has stagnated," admitted the Minister of Finance in his budget speech, "and we are failing to attract investment.". He then went on to blame "regional economic weakness, international trade tensions and the lingering impact of the global financial crisis as a source of our problems''.
No mention whatsoever of the economic weight the royal family and the king has on our national revenue or the profligate spending of the monarchy and his family.
To address these problems Mandvulo and Neil conceived two complementary policy blueprints; the Strategic Roadmap and the National Development Plan whose aim, we were told, was to restore macroeconomic and fiscal stability, ease the business regulatory environment, clear domestic arrears, reinforce infrastructure investment and remove impediments to private sector growth.
A quick read of Neil's neoliberal pamphlet one realises that true to the IMF's prescriptions, Mandvulo and his government have swallowed hook, line and sinker all the neoliberal 'private sector led growth' drivel that has become stock in trade for all free market fundamentalist the world over.
Hidden deep in their turn around strategy is an emphasis on expanding the tax base. This explains in part the renewed commitment to tax everything on the face of Swaziland, even the dead where need be (if the proposed Tax Administration Bill is anything to go by).
As can be expected, no talk about reducing the money we spend on the king or the royal family.
Sanitise the country internationally to woo investors
One of Mandvulo's goals, in line with his agenda to attract FDI, was to improve the country's standing internationally. This obviously meant going on a PR offensive because putting lipstick on a pig does not come easy.
An assessment of the country's media landscape showed him all our local publications are now discredited to influence local never mind international perception of the country.
The regular infantile ramblings of Welcome Dlamini in the Times of Swaziland and the newspaper's Managing Editor being the king's speechwriter has all but eroded the credibility of the Times of Swaziland as a liberal publication.
The Swazi Observer on the other hand is besieged by infighting and, quite frankly, has a paucity of people who qualify as true ideological pontiffs for a Tinkhundla regime desperate for a makeup.
In any event, the newspaper is paralysed by the desperation of its Chairman, Sthofeni Ginidza, to get rid of Mbongeni Mbingo, the newspaper's Managing Editor.
After all, Mbingo has never been Sthofeni's favourite because he always viewed him as the late Victor Gamedze's blue eyed boy. When Mbingo was appointed Managing Editor of the Swazi Observer he came into Sthofeni's orbit and the results has been a disaster.
S'thofeni's desperation to get rid of Mbingo, and possibly replace him with former Observer Editor and eSwatini Electricity Company Communications Manager, Sfiso Dhlamini, has taken a script from Mandvulo's dealings with Victor—leak sensational and sometimes lies to the Swaziland News and let the newspaper do their dirty job.
The recent sustained and concerted opprobrium against Mbingo mirrors in no small part the way Victor was vilified in the publication, screw the facts.
This strategy has Sthofeni and his acolytes written all over it. At least for now Mbingo has the support of Tibiyo boss Themba Dlamini hence the desperation to tarnish his image by the Sthofeni group.
The local media's inability to play its role in the agenda to cleanse Tinkhundla has led to Cabinet Ministers writing for South African publications to influence foreign audiences.
First, it was Minister Pholilile Dlamini-Shakantu who wrote for a South African publication when the Constitutional Court ruled that people could now contest Presidential elections in their individual capacity in that country.
But Shakati's overzealous excitement about the Constitutional Court 'endorsement' of the Tinkhundla 'individual merit system' was a gross misinterpretation of the judgement and merely embarrassed the PR strategy than help it.
What she did not say though was that in South Africa people will be able to contest as political parties, rent payers' associations or individuals something criminalised in Swazi politics.
Pholile argued that this was bringing South Africa's elections closer to the Tinkhundla notion of individual merit and was heavily criticised on social media for her mischievous interpretation of the judgement.
Even the PM himself has written for foreign publications like 'Business Day' and the 'Financial Mail', (considered the voice of capital in South Africa) because convincing people to invest in Swaziland cannot be left to an internally paralysed Swazi Observer or the discredited Times of Swaziland.
It was a huge vote of no confidence to the local press for a Minister to write for South African publication but the worse was yet to come; Mandvulo hiring Vuma Reputation Management, a South African based PR company, to help improve the image of the kingdom.
The troika of Mandvulo, Neil and Manqoba later addressed a Zoom briefing for foreign journalists where they sold this country as ready for business.
It was in this press conference that the mantra of a "private sector-led and export-driven economy" was sold to the world. Speaking at the same press conference, Manqoba even boasted that unlike career politicians all three of them were from the private sector and therefore competent to create an environment conducive for business.
"The people of the Kingdom of Eswatini love their monarchy and are proud of that," Khumalo told the foreign journalists. He blamed the bad publicity of the country to our inability to tell own story.
"We want the world to know Eswatini is open for business. We really want the world to understand the Eswatini story from us because we have for a long while left that space unattended and what has happened is because nature doesn't allow a vacuum, [other] people have defined us, but that definition is wrong. It is not who we are, it is not how we do business, it is not what is at the core and the centre of our culture," Manqoba said.
Part of this PR offensive has been the strong social media presence of the government because everything has to be anchored on evangelizing the good story of Swaziland. All this, of course, is assisted in no small measure by the international lobby as led by Natie Kirsh.
The 88-year-old entrepreneur and philanthropist regularly uses his international clout to buy favour for the monarchy and makes sure the king escapes scrutiny for human rights violations and lack of democracy.
As at 18 October, 2020 Bloomberg Billionaires Index estimates Kirsh's net worth at $6.73 Billion (about E 111.3 Billion in local currency).
The foundation for Kirsh's global empire is a monopoly (Swaziland Milling Company) he was granted by the British Colonial Government over Swaziland's maize industry in 1958. It was this company that made Kirsh his first million and he never looked back since then.
Kirch has always felt Swaziland was his adopted nation and shared filial relations with the country.
In fact, as of last Friday he is the second richest South African born businessman after Dr Patrick Soon-Shiong. He is richer than Nicky Oppenheimer and Johann Rupert.
In an interview with the Financial Times conducted in 2015 he boasted that he was lobbying for Swaziland get back benefits associated with the Africa Growth Opportunity Act (AGOA) shortly after we were kicked out.
Even this year he has been a regular and consistent donor to the government in its effort to fight the novel coronavirus pandemic. He donated as much as E110 million and has tried, without success, to convince the much needed FDI to invest in the country.
'Private sector growth' a cover for corruption and parcelling of jobs to cronies
If indeed Swaziland is to attract FDI then those who invest in the country need to be guaranteed their money will be protected against not just corruption but unfair business practice too.
Well, that is the promise Mandvulo continues to sell to the world yet at his backyard a stench of corruptions looms large. Recently deceased David Manyatsi, one of the Managing Directors at Manyatsi Nhleko Quantity Surveyors, can tell a better story.
Manyatsi died a bitter man, having seen the Prime Minister try to muscle him out of the ICC work he was doing at Zulwini. Manyatsi died of COVID-19 related illnesses.
Manyatsi's company had oversight role at the construction of the ICC and 'eating' big in government tenders and Mandvulo wanted to put his friend, Sdumo Dlamini of Billion Brother Project Management Consultancy, as a central player.
Manyatsi's company has previously been responsible for a number of government funded projects like the construction of the TB clinic in Manzini, Construction of Ministry of Defence Office Building, Woodlands Commercial Centre, Institutional Housing Package P at King Mswati III International Airport among many other projects.
Billion Brother Project Management Consultancy is the new kid in the block and is milking all big construction jobs under the Mandvulo government. One of Manyatsi's business associate told Ulibambe Lingashoni that Mandvulo promised to pay Manyatsi Nhleko Quantity Surveyors as much as E40 Million if he left the ICC job at Zulwini for his pal, Sdumo.
Billion Brother Project Management is co-owned by Welile Mhlanga who previously was Project Manager for infrastructure development projects at the Swaziland Civil Aviation Authority (SWACAA).
Sidumo is also embroiled in a legal dispute with the wife of Bicon founder's wife over accusations that he was trying to rip her off. The matter is pending in court.
Perhaps it would have helped if Manyatsi had given a ring to former MTN Chief Marketing Officer Khulile Dlamini on how smooth Mandvulo can be when he wants to get things his way. Khulile knows better because he drove him out of MTN nine months after arriving from placement in Uganda.
All Mandvulo did was merge Khulile's position as Chief Marketing Officer with that of Sales and Distribution to come up with Chief Customer Officer in the process render Khulile's work at the company none existent.
He was forced out of MTN so smoothly like that.
Khulile spent sometime jobless before emerging at Swazi Mobile as Chief Marketing Officer. While Mandvulo is frustrating some Swazi businesses for his friends, Neil has managed to bring the white business class closer to the regime and dishing out business opportunities in strategic sectors of the economy at a scale not seen before in recent time.
Whites have coalesced around Neil who has become a central pivot for their business exploit. This white grouping is subject to Ulibambe Lingashoni's investigation, especially how it has consolidated power in the retail, logistics, land and private farms, hotel and state tenders.
It was, after all, a ruse that there would be something called private sector-led economic growth in Swaziland given how private business like that of Manyatsi is treated.
In any event, this entire neoliberal gospel masks some of the problems business faces operating in a broke backward fiefdom like Swaziland.
For example, the Private Sector's gross fixed capital formation is still below the 20-25% of GDP needed for sustained and rapid growth, at least according to the African Development Bank.
Worse still, the 2020 World Bank's Ease of Doing Business, Swaziland regressed from the rank of 110th out of 189 countries in 2015 (score 59.8) to the rank of 121st out of 190 countries (score 59.5) in 2019.
The country poorly performs on starting a business, protecting minority investors, enforcing contracts, dealing with construction permits, and getting electricity. For instance, starting a business requires 12 procedures compared to 7.4 for Sub-Saharan Africa.
The 956 days required to resolve a commercial dispute is considerably long too. The build-up in Government's domestic arrears constrained the performance of companies that supply services to the government, in particular, SMEs and the construction sector which affected the indicator of enforcing contracts.
This is not the story Mandvulo is telling. And this is definitely not the story a PR firm can erase with a magic wand.
Maybe, just maybe, we can go back to Langston Hughes's legendary poem and ask what happens to a (Singaporean) dream deferred?
NB: This article was a collaborative research and investigation done by Minikeni Dlamini, Manqoba Nxumalo, and Ntando Maphalala.
*Email us at ulibambelingashoni@gmail.com
.