We dig deep into the troubled life of Prime Minister Mandvulo Dlamini (Part I of III)
Two thousand and eight. That's the year! If you want to be more specific, 21 September 2008. That's the day Swaziland history changed for the worse.
Future historians and researchers who will write about Swaziland, or more specifically about the reign of King Mswati III, will have to start a new book, not just a chapter, to chronicle the events that have happened since then.
None is more emphatic about the need to understand the importance of this day than retired former head of Swaziland's intelligence branch, Vusi Mahlalela*. To him anyone who wants to explain contemporary Swaziland then the starting point must be 2008.
Better yet, anyone who wants to talk about Ambrose Madvulo Dlamini must understand both the objective and subject factors that made the man what he is and the conditions that made him Prime Minister.
"So you also don't know what happened in September 2008?" Mahlalela rhetorically asks as he slices open an avocado he's been holding on his left hand.
An old man now, Mahlalela sees himself as the last bastion of Swaziland's institutional memory because, as he boasts, he combines political dexterity, historical knowledge and access to classified security information.
He does not shy away from boasting about the wealth of knowledge he amassed over the years given that he worked under King Sobhuza II, the chaotic Liqoqo interregnum and then, as he calls it, 'the changing faces of Swaziland under King Mswati III'.
He says he often gives this background about himself so that people understand that when he says 2008 was the defining year in the country's political, economic and security history he is not thumb sucking a day from thin air but speaking from experience.
"What type of an activist are you if you do not even know what happened in 2008. Talk to me once you know," Mahlalela dismissively says with disappointment written all over his face.
By this time he has stood up from his wooden chair and walking around his yard, avocado on the left hand and brown bread on the right. He kneels down to inspect what seems to be troubling his dog, Snoopy.
With his attention distracted a quick google search saves what was turning out to be an embarrassing situation. We learn that on that day two people died under the Lozitha Bridge attempting to plant a bomb.
Once Mahlalela realised we now knew what happened in 2008 he directs us to go and read the Judgement that convicted the lone survivor of that incident, Amos Mbedzi.
"How did a question about Mandvulo take us to a Judgement on Amos Mbedzi?" we wonder between ourselves but no one wants to break the confused silence.
This is where Mahlalela's genius comes in. He then helps us connect how the political, economic and security environment in Swaziland changed in 2008 and then locates the country's Prime Minister, Mandvulo Dlamini, as just a cog in a fast evolving machine and spurn by events way out of his control.
His argument, as he concludes his long 'sermon', is that those of us who want to explain Mandvulo outside of the political context of the post 2008 period will end up with a shallow and pedestrian analyses.
Instead of giving answers, he kept asking pointed questions; what happened to the country's security after 2008 and why? How did the economic situation change after 2008 and what was the response of the state? Why was Barnabas appointed Prime Minister in 2008 and how did he change the king and country's politics?
"You won't even see the need to ask about Mandvulo of today after getting answers to these questions. You will just see where he fits in the bigger scheme of things. The big picture only comes once you ask the right questions," Mahlalela says, convinced he has done enough to help light the torch. The onus now lied in connecting the dots and piecing together the maze.
Who is Mandvulo?
Mandvulo is son to Mphatfwa Dlamini who himself is the son of Prince Magongo. The significance of this is that Madvulo's great grandfather is Prince Malunge, father to Prince Magongo, who is considered to have been Queen Labotsibeni's favourite son and the one who raised and prepared Sobhuza for the throne.
Prince Malunge ruled together with Queen Labotsibeni before Sobhuza II took over the throne. It is Prince Malunge that historians roundly consider to be the brain trust of Queen Labotsibeni's reign. Even though without any form of formal education, Prince Malunge was progressively minded as seen by the fact that he had one wife, Ncandzekile Mabuza, and upon death even left a will (written by lawyer and ANC founder Pixley ka Isaka Seme), a rare practice for a person of his time.
Prince Malunge even influenced Labotsibeni to not just join the ANC but also to fund it. Mandvulo's father, Mphatfwa, worked at Swaziland Railway and lived in Sidvokodvo as a modest man who had broken free of the royal traditions and customs at Ludzidzini.
Many even consider Mandvulo to have all the traits of Prince Malunge, who had embraced modernity way before it became fashionable. Some argue that even the Mandvulo conference hall at Lozitha palace is named after his family lineage.
Mphatfwa, Mandvulo's father, was a different man from your average royal family. He decided to marry his first wife who abandoned him when he took another one. His wife first took Mandvulo with her to live in Luve. Mandvulo grew up as a Christian from the influence of his mother.
Even his son assumed the name Ambrose, upon being baptized by an Australian priest following the influence of attending primary at St Florence Catholic school.
Mandvulo, therefore, grew up under conditions of what many would describe as 'modern' and not at all steeped in cultural identity and affinity to the royal family.
In fact, up until he became the Prime Minister the man had not undergone kubutseka and was seldom seen in traditional wear. Kubutseka is a ritual where a male officially joins the king's regiments.
Only once he was part of MTN did Mandvulo occasionally don traditional attire but even then it was only when attending functions where the king would be present.
He attended high school at Salesian in 1983 before joining the University of Swaziland in 1988. While at the University, he enrolled for a Bachelor of Commerce degree and graduated in 1992.
Mandvulo never fancied himself as the sharpest knife in the kitchen and relied on his hard work, stealth and assiduousness to see himself through.
He started his professional life as a teller at Swazi Bank before getting a Tibiyo scholarship to study for an MBA at Hampton University in the USA between 1994 to 1996.
Upon returning home he briefly worked for Swazi Bank but later joined the wave of Swazi professionals who were migrating to South Africa to enjoy the fruits of a post-apartheid nation.
Once in South Africa he worked at Absa for about a year and a half before being recruited by Standard Bank. The political environment that was shaping South Africa favoured a person of Mandvulo's background; educated, black and young.
As Mandvulo's star was shining in the banking sector, politically Thabo Mbeki was forcing corporate South Africa to transform. People like Mandvulo therefore become highly sought commodities literally over night.
It is at this point that Mandvulo acquired an illegal citizenship so to benefit from the new opportunities that were coming for native South Africans.
The historically white banking sector was also modernising and attuning itself to the changing political environment not just in South Africa but in the region too.
As fate would have it Mandvulo found himself at the right place at the right time. Nedbank, in particular, wanted to leverage on this transformation policy and wanted a Swazi to head their bank in Swaziland.
At the time Mandvulo was already a Nedbank Swaziland executive and his trajectory into MD was therefore not too difficult to escalate.
It is worth noting that it was the first time the big three South African banks, Standard Bank, FNB and Nedbank, appointed a Swazi MD. Today all three MD's are Swazis. Ambrose therefore blazed a trail for Swazi executives.
He was after all 'black excellence' without royal favours, connections or even patronage.
He was his own man so to speak, not even attending the traditional events at Lobamba and definitely not forcing his recognition as a member of the extended royal family.
MTN: the making of Mandvulo the Prime Minister
If there is one lucky man then it is Mandvulo. At all times events outside of his control conspire to position him favourably.
If it is not a fast changing South African banking sector then it is a political and business standoff threatening the very existence of MTN in Swaziland.
Always the lucky man at the right place and at the right time, this Prince Malunge descendent. It is therefore safe to say Mandvulo joining MTN was nothing short of luck meeting fate.
But then to explain how events conspired in Mandvulo's favour at MTN we need to trace the history of the company in Swaziland.
Telecommunication giant MTN came to Swaziland back in 1998 after being offered a 10 year monopoly license by the royal family. Even though headed by a white man, it was clear right from the beginning that Themba Khumalo, at the time a Swazi engineer based in South Africa with a Master's Degree in Electrical Engineering, was being earmarked for big things.
Before joining Swazi MTN, Khumalo had been working for Telkom SA and was recruited back to Swaziland in 1999 to work as MTN's engineer before rising to Chief Technical Officer and ultimately CEO in 2003.
Themba endeared himself as a favourite son of MTN for his record in Swaziland. As an engineer, his role was was to roll out the company's network and services.
Upon taking over as CEO he grew the subscriber base from 70 000 to 255 000 in three years. MTN Swaziland also significantly increased its penetration in the kingdom's market with geographic coverage growing up to 83% of the country. Population coverage increased to 90%.
Former Swaziland MTN CEO Themba Khumalo. He is MTN International's favourite Swazi son.
It is Khumalo who believed in surrounding himself with a layer of bright Swazi minds to help build MTN into a giant.
He believed in accelerating the carrier paths of his Executive Committee (EXCO) members by seconding them for strategic placement in senior positions all over Africa where MTN had a foothold.
For example, people like MTN's Chief Consumer Officer, Sam Shongwe, present day Swazi Mobile Chief Marketing Officer, Khulile Dlamini, the present CEO, Wandile Mntjali, the present Chief Financial Oficer Lungile Nxumalo were, for all intents and purposes, Khumalo's protégés who were being groomed for future leadership of the company.
To illustrate this, Khulile spent some time as Segment Manager for MTN Uganda while Sam worked for six years as Credit Management Consultant in the same country.
In fact, Sam holds the record for being the only MTN employee to have gone for a full time MBA studies on full pay. Lungile meanwhile was seconded to work in Liberia.
Wandile on the other hand cut his teeth as CTO in Guinea Bissau before returning in Swaziland in 2012.
He was subsequently parachuted as CEO by Themba, who was by then Group Executive responsible for 13 countries, including Swaziland in the 'small tier' segment of MTN, once Mandvulo had left.
As an executive, Wandile benefited from Themba's patronage as he had an influence on who gets to C level positions in countries he was responsible for.
Anyone who comes recommended by Themba was sure to get a green light from MTN head office in South Africa because this was their man, the one who had made MTN all that it is in Swaziland, the advantage of a monopoly license notwithstanding.
For MTN International to get a monopoly licence (something unheard of anywhere in Africa where MTN had a presence), did not come cheap though. The king wanted a slice of the pie and it was Themba who brought it freshly baked.
It is worth noting that SPTC is the biggest shareholder of Swazi MTN at 41%. They originally owned 51% but sold 10% to the "esteemed shareholder" (the king) in unexplained circumstances.
However, when the time came for Themba to leave for Rwanda, MTN International, a 30 percent shareholder of MTN Swaziland, brought in Tebogo Mogapi in preparation for the end of the monopoly license in 2008.
Tebogo had previously worked as an acting executive of the consumer business unit of MTN South Africa and had no idea how to manage a company with the king's financial interests.
He was a foreigner too, completely out of tune with the 'Swazi' (read king) way of running a business.
The first problem he encountered was that the king would routinely call him to go down at Ludzidzini for updates on how MTN was doing.
As a shareholder, the king felt entitled to be kept abreast about 'his company' over and above the dividends he was getting or the representation he had at the board level.
True to the royal family's style of doing things, Tebogo would be made to wait for hours on end without anyone attending to him. Being a professional and foreigner that he was, he would then leave in frustration.
His argument was that he had other meetings to attend to and could not afford to wait forever to meet the king. This infuriated King Mswati III to a point that 'wamdvuba MTN', as those in the know prefer to describe it.
To show how bitter the king was, he even refused to go to MTN's stand at the annual trade fair during his customary walkabout of the different stands.
If anything, the king would just waltz past the MTN stall despite it being at the entrance of the main pavilion, a prime spot costing MTN in excess of over E500 000 to rent.
Around that time MTN's license was coming to an end and word on the streets was that SPTC was planning on a new mobile network to be called 'ONE'. The fears, therefore, was that the king would bless SPTC to venture into the mobile telephone business.
It sent shivers on the spines of the then MTN board. The fate of Tebogo as the king's 'nemesis' played itself out while his work contract was up for renewal.
Even though MTN board wanted him to continue in his position, cabinet flatly refused to renew his permit and called for the 'localization' of the CEO post. Just like that Tebogo was gone. For the MTN board, they now had a dilemma; as a company policy, MTN does not have its CFO and CEO from the same country.
This is MTN standard business practice across Africa.
By logical extension, this meant the new CEO had to be of foreign origin. Meanwhile, the government was now punting the 'localisation' gospel which was at complete odds with MTN standard policy.
On the other hand, down at Ludzidzini King Mswati was unhappy with the company. To add petrol to the fire the Swaziland Post and Telecommunication Corporation (SPTC) was posturing itself to be entering the mobile business with its ONE mobile.
The problems between SPTC and MTN were at the time beyond frost. They had become openly hostile and antagonistic. MTN was tired of relying on SPTC's transmission network which, in terms of the law, allowed SPTC to have exclusive privilege to provide backbone infrastructure in the country.
MTN had no control over the performance of SPTC's transmission network and wanted to put up their own. This was being frustrated leaving the country as the only where competing companies were still being forced to use the same backbone infrastructure.
In fact, Swazi MTN pays up to E627000 per month for transmission of calls within a 30-kilometre radius to SPTC.
All this was compounded by the fact that the king had shares at MTN together with some influential figures like then Prime Minister Barnabas Dlamini. Barnabas got them through the Swaziland Empowerment Limited (SEL), an investment holding company engaged in financial intermediation.
Politically, the position of MTN CEO became strategic to many financial and political interests. When it was advertised a lot of heavyweights applied both internally and externally.
Inside MTN among those who applied was former head of IT services Shaka Ndlangamandla, CFO Thokozile Vilakati-Jele from among others. Inside sources will tell you Mandvulo stood no chance.
He was an intellectual, professional and academic dwarf among those who applied, especially for a telecommunication position needing a different skill set than that of a banker. It was again back to the mid 90's for Mandvulo; being at the right place and at the right time.
Unknown to him, events outside his control were conspiring to favour him. Those who recruited him as CEO told Ulibambe Lingashoni that the biggest consideration urgently in the mind of the board was how to mend relations at Ludzidzini given that MTN's license was expiring and worse the king was giving them a cold shoulder.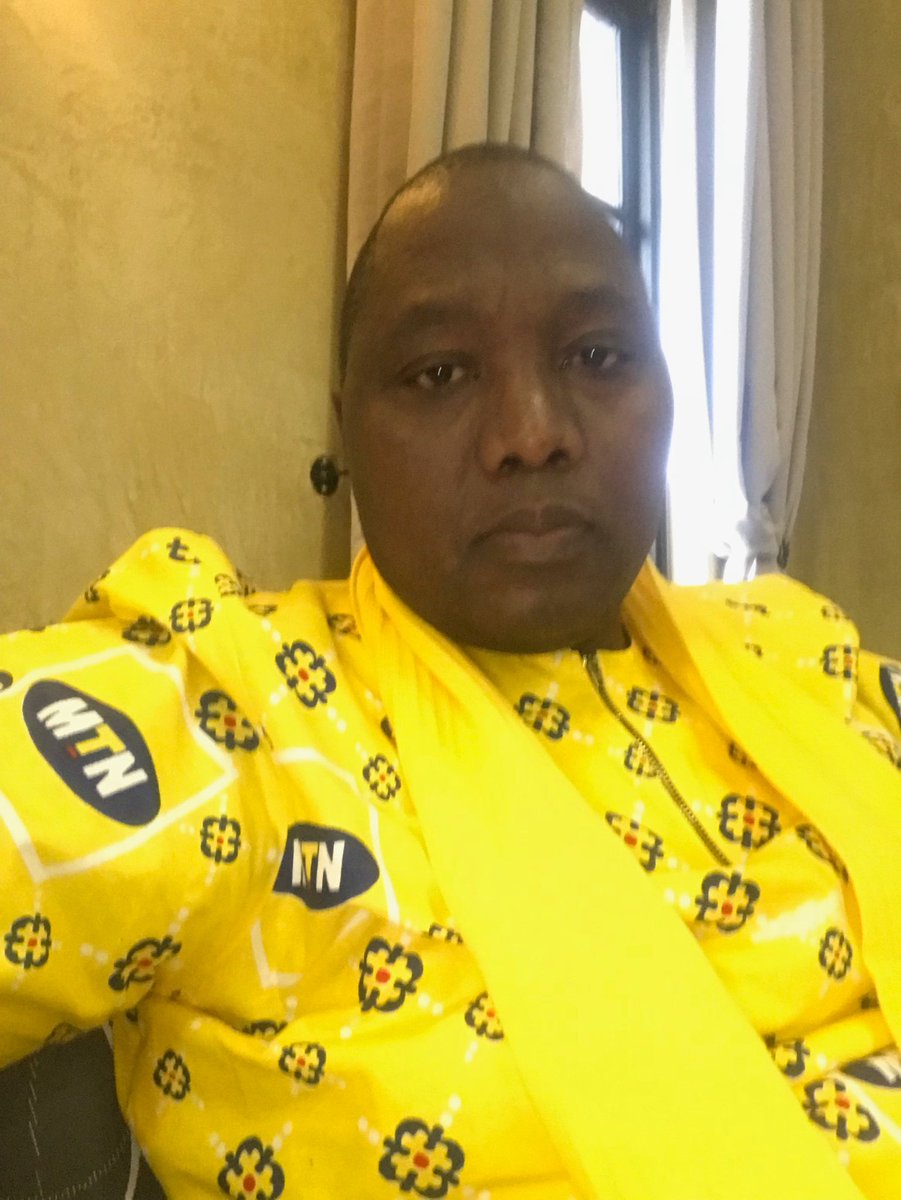 The problems of MTN were more political and needed a man who would smoothen things up down at Ludzidzini. The continued threats of SPTC rolling out a mobile network gave MTN sleepless nights.
For this reason, when the board got wind of Mandvulo's blue blood they knew they had found their man.
He was parachuted as a leading candidate and subsequently moonlighted as the new CEO. Within six months of assuming office, he had stamped his authority and wiped clean the Themba Khumalo assembled EXCO. One by one the pillars of the company left.
In fact, sources allege that Mandvulo went to all those who applied for his position and told them that given their interest in the post he did not think they would be able to work well together.
The truth and otherwise of such claims cannot be verified but it is interesting that within a few months of assuming office only Thokozile Vilakati-Jele (CFO), Khulile Dlamini (Head of Risk Management) and Pholile Dlamini (Head of Corporate Services) and Philip Bessimire from the old guard remained with MTN.
The rest of the EXCO left under controversial circumstances. From then on MTN JC-nised with forceful abandon. It was under Mandvulo that MTN senior management either came from the JC church down in Matsapha or had connections to it in some capacity or the other.
Mandvulo and his initiation into the 'the Swazi way'
To the fatally misled board, Mandvulo was to be their go-to man down at Ludzidzini. His first task was to warm up relations with the king.
Unknown to many, Mandvulo had no connection with the king or the royal family even as royal blood ran in his veins. In fact, he had grown averse to the royal family's life style and practices as a Christian and 'modern' man.
In attempting to build this bridge between MTN and the king, Mandvulo came face to face with the confusing web of hangers-on and leeches around the king.
He was shocked to realise that he cannot have direct access to the monarchy without going through some shady figures who demand favours or manipulate him for tenders or other monetary benefits from MTN.
The cold war between the king and MTN was ultimately feeding the greed of the king's shoeshine boys who were by now manipulating a royal outsider who was completely out of sync with royal protocol or the so called traditional way of doing things at Ludzidzini.
These royal shoeshine boys were prepared to milk the MTN—King standoff for all its juices.
Meanwhile, Mandvulo had the pressure of the board to deliver on his 'royal' mandate. Among the people who ultimately helped him secure an audience with the king was Ncumbi Maziya, the king's longtime confidant and childhood friend.
The King's trusted right hand man Ncumbi Maziya seen here with Judge Mzwandile Fakudze and by Richard Phungwayo (L). Writer said he played a role in facilitating the king's meeting with Mandvulo.
After what seemed like forever, the king allowed MTN to have an audience with him. At that time a lesson had been learnt from both parties; to the king, he now had huge leverage on MTN as they now were bargaining from a position of desperation.
To MTN they knew the cost of upsetting the king and were prepared for excessive grovelling if only just to secure their business interests.
For his part, Ncumbi Maziya eventually emerged with a dubious tender from MTN that paid him millions. His job? Securing meetings and ensuring green light for MTN when mounting network towers on Swazi Nation Land where chiefs had control.
He also claimed to be providing security to these towers.
As all this is going on word has gotten out that the late businessman Victor Gamedze was cozying up to the monarchy and preparing to launch Swazi Mobile.
This poured oil to an already untenable situation. As they say, desperate times call for desperate measures. It was Mandvulo and his goons who tried to use the relations he had established with Zweli 'Zwemart' Dlamini of Swaziland News fame, to plant unfavourable stories about the late Gamedze.
These stories, it was hoped, would make Gamedze look bad at Ludzidzini. The boldness with which Zwemart took on a person of Gamedze's statue while reporting in a way that slanted in favour of MTN, brought its fair share of dividends in a form of advertising.
For example, no one believed Zwemart's reports that the late businessman was planning to kill the king but it was the subterfuge MTN needed to deal with a toxic environment.
At first, it raised eyebrows how a company of MTN's standing could spend so much money advertising on a small publication with low circulation but as long as Zwemart was doing Mandvulo's bidding the end justified the means.
It was quite impressive what Zwemart was doing given that MTN was operating in a media space where Gamedze had almost every journalist and editor on speed dial. Victor was literally untouchable.
If Victor was not constrained he spelt doom for MTN and fighting him politically through sensationalised claims was their last weapon.
This was the context that saw MTN transform into the royal family's chief financial enabler. Reading reports in the press from the time MTN was able to have an audience with the king right up to the time Mandvulo was appointed Prime Minister, Ulibambe Lingashoni calculated that the company had donated in excess of over E200 Million to various events associated with royalty.
The icing on the cake was when the company bought a special mobile tower network for the exclusive use of the king. This mobile tower is normally used by MTN to ease network congestion when they are going to have events where a substantial number of people are going to gather en masse.
The company had to buy a Mercedez bus and mount the network tower in it then park it at Lozitha for the exclusive use of the king and the royal family. This did not come cheap.
It was this relationship with the authorities at Ludzidzini, forged under conditions of MTN isolation, that 'introduced' Mandvulo to business 'Swazi style' and killed hopes of ever using his 'modern' upbringing, sterling education, business acumen to achieve anything on merit.
Having 'delivered' and fed the desires of the king using MTN, the road was clearly paved for Mandvulo to become the next Prime Minister of the country when the post became vacant in 2018.
It also helped that he got the endorsement of Princess Sikhanyiso who had worked with him while a board member representing the king's interests at MTN.
What Mandvulo did not know however was that by pandering to the greedy appetite of the king he was feeding his own monster and laying the ground for his own 'alcohol ban' conundrum.
As the king was using Mandvulo as an errand boy to fleece MTN, Barnabas, on the other hand, was showing the monarchy that 'concerns of the international community' that had previously restrained the king on many things were nothing short of scarecrows.
It was Barnabas who convinced the king in both deed and words that the so called 'international community' could do nothing to him no matter what. He was, after all, not the black sheep of the continent as there were leaders who had done far worse and nothing had been done to them.
To illustrate this, while in the past the king could be forced to exercise restraint because 'the Americans will withdraw the African Growth and Opportunity Act (AGOA)' or reminders that he did not have to upset the EU because they were our biggest importer of sugar (the mainstay of the economy), Barnabas came in as Prime Minister in 2008 to show the monarchy that even if the worse were to happen a revolution was far from happening in the country.
Barnabas had proven it when he arrested Bheki Makhubu and lawyer Thulani, through their then Chief Justice proxy, that the people the king feared were incapacitated to harm him. Even though the international community barked and made noise they had no power on the king in the bigger scheme of things.
Even the withdrawing of AGOA post 2008 did not lead to any revolution as the king had previously thought and the stillborn 2011 uprising died before it could even start.
The security dossier prepared by the intelligence department, to which Mahlalela detailed to Ulibambe Lingashoni, had shown Barnabas and the king that the trade union's strategy of piling pressure by engaging in strikes and hope for political concessions had run its mile.
This explains in part why in the period after 2008 several marches and strikes were held by the labour movement but the government gave in nothing.
If anything, it was Barnabas who fired teachers en masse after an unprotected strike only for them to come begging for jobs and in the process embolden the authorities that previous fears of revolution were exaggerated.
The security briefing also revealed to the authorities that the only lingering threat was with the People's United Democratic Movement (PUDEMO) who had shaken the king when the late Musa MJ Dlamini attempted to blow up the Lozitha bridge he was to use for a trip to New York.
A resultant security threat assessment conducted with the help of Mossad, Israel's intelligent wing, revealed that in fact PUDEMO was paralysed by internal divisions, poor leadership, lack of a political program on how to capture state power, financial incapacity and the changed political climate in South Africa brought by the breakaway in the Congress of South African Trade Unions (COSATU) and the emergence of the Economic Freedom Fighters (EFF).
It was COSATU and Julius Malema's ANCYL that were the backbone of the support progressive movement were getting in South Africa.
"We were convinced the party would never recover no matter how many leaders they chop and change. Our projections were that insignificant splinters would spring up that at best would die a natural death themselves or bitter yet factional bickering would drive permanent wedges and ultimately collapse the party," Mahlalela said of his assessment of PUDEMO's threat to the country.
With a political threat eliminated, the king then evolved into a fully fledged businessman eager and ready to claw his hands at every sector of thriving economic activity. After all, it was Mandvulo while at MTN who had shown King Mswati that his greed could be fed.
Ironically, it is again Mandvulo who is faced with an MTNsque beer conundrum. He knows the script very well except this time the demand for the Swaziland Breweries to do 'kwetfula' has been met with firm resistance.
What irked the king the most about Swaziland breweries was not just that they were not doing 'kwetfula' (a custom of showering the king with gifts) but the independent culture of the company especially in decision making.
It had not gone unnoticed by the monarchy that the company has for the last few years "boycotted" the Swaziland International Trade Fair because they felt the high costs of getting a stand, set it up and run it for 10 days far exceeded the financial benefit accrued.
Yet still, this is an event for the King. This where the Swaziland Investment Promotion Authority (SIPA) draws relevance. Importantly, this where the king invites his friends to showcase the best of Swaziland's corporate sector. He also hopes to receive expensive gifts from corporate Swaziland.
Snubbing such an event is therefore tantamount to snubbing the person of the king especially for a big and highly profitable company like Swaziland Breweries. Various attempts to exert pressure to the company had yielded no results until the COVID-19 presented the king with the perfect opportunity.
Indeed, the monarchy is about to give the Breweries the MTN treatment and prove once and for all who in charge. After all, this is Sub Sahara Africa's last remaining absolute monarchy.
For Madvulo he has accepted that he will be the guy taking the punches as fearful Swazis vent their frustrations on him.
For those who either want to enjoy their favourite beer, run companies, pay staff, feed families and generally rely on the opening the beer tap to eke out a living then they must know, as Chief Gija has already told the nation as quoted in several publications, 'drink water'.
Such a callous remark has a familiar ring to it.
Was it not Marie-Antoinette (bride of France's King Louis XVI) who told her French subjects who were complaining of not having bread to "Qu'ils mangent de la brioche" or, as they say in english, "eat cake." Go read for yourself what happened after that.
*Mahlalela is not the real name to protect our source. Email us for feedback at ulibambelingashoni@gmail.com
NB: This article was a collaborative research and investigation done by Minikeni Dlamini, Manqoba Nxumalo, and Ntando Maphalala.
Read Part II of this series as we focus in detail on Mandvulo the new Prime Minister facing the headache of COVID-19, alcohol ban and an insubordinate Princess Sikhanyiso.
We are particularly grateful to the insights given by Mahlalela on the intersection of security, politics and economics in this ongoing series.