PUDEMO and COVID-19: voices from Australia
According to the World Health Organization (WHO), on 2 April 2020, there were 827,4019 confirmed cases of coronavirus and 40,777 confirmed deaths globally. On 3 April 2020, WHO reported 900,306 confirmed cases and 45,693 confirmed deaths.
These numbers are increasing rapidly every day and it is estimated that between one and five million people could be infected globally. The virus has been spreading rapidly in the Northern Hemisphere and is making its way to the Southern Hemisphere at great speed.
In Italy, the death toll has exceeded 10,000. In the United States, it is estimated that hundreds of thousands could be infected and possible die in the coming weeks. As the winter flu season draws closer, countries in the southern hemisphere could see a spike in cases and deaths.
The prognosis for developing and poor countries such as Swaziland is bleak if governments do not take comprehensive and aggressive measures to slow the risk of growing infection. WHO declared the coronavirus (COVID-19) a global pandemic with serious impact on public health, the economy and social well being.
The People's United Democratic Movement (PUDEMO) is extremely concerned about the spread of this virus in our community and its potential catastrophic effects on public health, our people, the economy and livelihoods. We are most concerned about the absence of urgency, speed and leadership in responding to this pandemic. So far, the government has adopted a laissez faire attitude and has been very slow
to act.
The measures it has taken are inadequate and poorly conceived. More
should be done and fast if the country is to avoid a public health and economic calamity. While we commend the government for introducing a 'partial lockdown', we are troubled by the absence of a national plan to guide the nation's response to this crisis.
This is a government that sat on its hands when the country was being ravaged by the HIV epidemic. Over many years, it presided over the collapse of the health system, a critical weapon every Swazi needs to fight the coronavirus.
The COVID-19 pandemic comes at the time when we have no shield and amour to protect ourselves because our health system has been in a state of paralysis for many years and cannot cope with this pandemic.
The government has not told us how it plans to respond to an increase in infection and mass deaths. Swazis are correct to be sceptical about the government's capacity and operational ability to respond to
this crisis.
PUDEMO calls upon all Swazis to join hands and fight against this virus. This is a struggle for our survival. Let us hold the government accountable for its failures now and in previous occasions. We demand that it takes comprehensive and aggressive measures to slow the spread of the virus.
Our first message to the government is that you have legal obligation under international human rights law to provide adequate public healthcare to all Swazi citizens, residents and visitors (Article 25 of the Universal Declaration of Human Rights).
Goal 3 of the Agenda for Sustainable Development calls for United Nation member states to improve health outcomes of their citizens, reduce infectious diseases and achieve universal healthcare coverage.
In the past, this government has failed to exercise this responsibility by putting our society in harm's way. As a government, you failed to protect the population against the HIV epidemic which continues to kill our people in large numbers. According to UNAIDS, in 2018,
210,000 people in Swaziland were living with HIV and 2400 died of HIV-related illness in that year.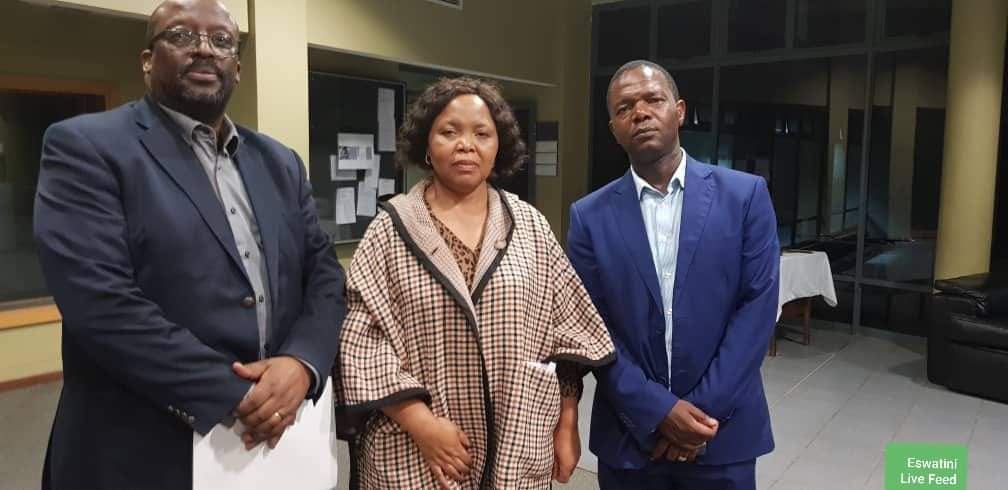 Despite our small population size, we have the highest HIV prevalence in the world. We also have the world's highest incidence of tuberculosis and high levels of co-infection with HIV. People with tuberculosis
are more vulnerable to coronavirus infection. Similarly, people living with HIV are more susceptible to COVID-19 infection because of suppressed immunity.
A combination of tuberculosis, HIV and COVID-19 infection is most likely to have fatal outcomes. Our population is vulnerable and defenceless. We are troubled that the government has not unveiled its plan to protect groups in our society that are at high risk of COVID-19 infection. For example, the elderly and people with pre-existing medical conditions such as tuberculosis and HIV.
Our second message to the government is this, please don't lead our nation to another public health catastrophe. You are in control of the nation's budget and we ask that you do the following to protect the country's precious resources, our people and the economy:
1. Do everything possible, including digging into international reserves and taking extra loans, to support our medical front line services to respond to the COVID-19 pandemic. We need you to put more resources to our health system to build capacity in hospitals, medical centres and clinics to respond rapidly to demand and emergencies. Investment in this area is very critical at this moment and can define our success in responding to this virus.
2. Support and protect our doctors, nurses, paramedics, pharmacists and public health educators to do their job more effectively and efficiently. They are a precious resource and important weapon in the fight against the virus.
We demand that you provide personal protective equipment to all medical and non-medical staff working in hospitals, medical centres, clinics and pharmacies. The government must do this now without delay to allow our front line medical
personnel and operational staff to remain at work and provide the much needed services to our community.
3. Introduce and enforce a complete national lock down, including a ban on gathering in public spaces and travel between urban and rural areas. Travel for purposes of seeking medical attention and purchasing essential goods must be exempted from the ban. The government must deploy the police and the army to enforce the lock down, but we are totally against the use of violence against our people.
This will not be tolerated. Education and cooperation should be the default approach, and not heavy handed tactics. Religious, regional and traditional structures should also be mobilised to assist our people in observing the conditions of the lock down. These are difficult times in which we are called upon to temporarily give up our freedom of movement and gathering to protect the health and well being of our society.
Evidence in other countries show that lock downs and cooperation between authorities and citizens have been effective in slowing
the spread of the virus. PUDEMO is particularly concerned that the spread of the virus to rural areas could have catastrophic impact because of poor hygiene facilities and medical services.
As Swazis living in urban areas, we have a deep connection with our folks and families in rural areas, but we must consider the risk of passing the virus to them. The effectiveness of lock down measures must be monitored, evaluated and reviewed periodically.
4. Negotiate a package with businesses and workers to keep the economy ticking while the country is in lock down.Businesses that are at high risk of transmitting the virus among workers and the community must be shut down with immediate effect. The government must negotiate a package with impacted businesses to keep them afloat and continue to pay wages to workers.
5. Businesses that sell food and essential commodities must remain open, but we appeal to our people to observe social distancing practices and only go out to buy food and seek medical attention if they feel unwell. People should be encouraged to avoid contact with other
people except household family members.
6. Introduce and scale up a national COVID-19 education campaign, TV, Radio and pamphlet distribution in public facilities such as toilets and public transport. The government must issue daily updates on COVID-19 and its actions to combat the spread of the virus.
7. Establish a national COVID-19 coordination commission or task force to coordinate government and community efforts against the virus.
8. Scale up COVID-19 detection measures and commit to a target of tests a day. The government must also commit to be transparent about the results of these tests. Many people in the community are worried that the government is under reporting the number of cases and COVID-19 related deaths. There is now compelling evidence that many people who are infected by the coronavirus don't show symptoms but can still spread the virus to others if not detected and isolated.
9. Identify and isolate people who are infected to slow the spread of the virus in the community.
10. Plan and prepare for a spike in demand for COVID-19 treatment by converting existing infrastructure into emergency centres. The army must be mobilised to build makeshift or field hospitals at short notice. Modelling and site identification should start now to get the country ready for a worse case scenario.
Our message to business is that you remain one of the core pillars of our economy. We understand the financial pain you are going through right now, but we also want you to understand the pain being felt by our workers who have lost their jobs and livelihoods.
It is for these reasons that we ask the government to dig into its reserves to support businesses and workers in these difficult times. We call upon the government to do everything possible to support businesses in distress and people without jobs and income.
If the government has plenty of money to purchase a fleet of Rolls-Royce and other luxury cars, it can find money to put together a rescue package for workers and businesses.
To the people of Swaziland, we say we love you very much. We would like to see every one of you in good health, free and prosperous. This is the goal we set to achieve when we established the liberation movement almost 40 years. It is important that we fight this struggle against COVID-19 with renewed courage, determination and strength.
This is a struggle for our survival as a proud and resilient nation. Our pride has been stolen from us by a selfish and brutal regime, but we can take the fight against COVID-19 with renewed pride. This government has led the nation into an abyss.
The longer the virus linger in our community, and the longer we allow this government to remain in office, the deeper this nation will fall into the abyss. This virus can be contained if we pull together and act quickly and comprehensively.
We ask emaSwati, residents and visitors to our country to contribute to the fight against the spread of the virus by:
1. Staying at home and avoiding travel that is not essential.
2 Avoiding unnecessary physical contact with other people. Keep at least a metre and half from other people.
3. Wash hands frequently with water and soap after contact with surfaces and other people. The virus can survive on surfaces and hands for hours, even days.
4. Avoid touching your face with your hands after contact with surfaces or other people.
5. Please avoid shaking hands with other people. If you do, avoid touching your face with your hands because the virus can enter your body through your eyes, nose and mouth. Wash hands with water and soap.
6. If you have a fever, cough and sneeze, please seek medical attention immediately. Wear a face mask if you have one to contain the spread of droplets in the air. If you don't have a face mask, cough or sneeze onto your elbow, tissue paper or a handkerchief. Please throw them in the bin.
7. Please do not spit coughed out mucus onto the ground. Use a tissue and dispose it safely.
8. Please don't share drinks with other people from the same container. The virus can be easily transmitted through sharing drinks. We have a long-standing culture of drinking and eating from the same bowl, but these are challenging times which call for moderation of our social behaviour.
Please look after yourselves and stay safe. We are all in this together for the long haul. We must come out the other end strong and ready to rebuild our lives.
NB:Dr Jabulane Matsebula is head of PUDEMO International Office in Australia